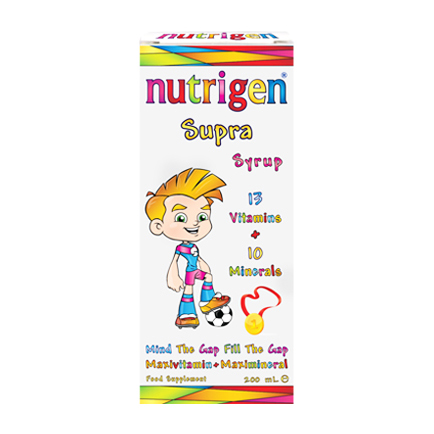 Nutrigen Supra Syrup
A rich source of essential vitamins and minerals, Nutrigen Supra is a great supplement that provides a range of benefits for the overall health and wellbeing.
Supports growth and development of bones and muscle
Strengthens metabolism of the children
Helps in reducing tiredness and fatigue
Maintains nervous system, cognitive and phycological functions
Dosage 
Suggested Daily Intake:
Infants 6 to 12 Months: Take 5 mL daily.
Children 1-3 years: Take 10 mL daily.
Children over than 3 years: Take 15 mL daily.
Do not exceed the stated recommended daily serving amount. Any food supplement should not be used as a substitute for a varied diet.